Annual Silent Auction
Benefiting Haiti Cheri Harvest Life Ministries
December 15, 2018 at 6:00PM
Hosted by
Derric & Ashley Stull
111 Roberts Way
Canton, GA 30114
Haiti Cheri is a 501(c)(3) Nonprofit Charity.* All donations are tax-deductible to the amount permitted by law.
We are grateful for your support of Haiti Cheri's fourth annual fundraiser. This has been a very successful event in the past, and we're looking forward for a great evening this year as well. Among other things, Haiti Cheri operates a medical clinic in the city of Cap-Haitien, and extends healthcare into remote, under-served villages. Additionally, we have programs involving ministry, education, and development. Thanks to the generosity of the donors and participants in the previous three years, here are some of the things Haiti Cheri has been able to do with the proceeds from this event.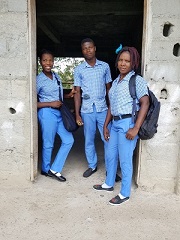 This year, proceeds from the event will be used to purchase material for our school in the remote village of Dolval. The school is about 75% complete, and this fundraising effort will be used for things such as doors, windows, floor finishing, and a concrete roof that needs to be finished. The school building is being used now, but the students and teachers will be thrilled to see it completed!
Haiti Cheri is likewise thrilled to be back to Dolval and plugged in with the community. This is the little village where our organizations founder, Dr. Oris Guillaume, used to pastor. We started work on this school many years ago, but had to step back for a period of time. Now, we're back and the village has welcomed us with open arms. They will be very encouraged to know that people in the United States are thinking of them, and care about their youth and their school.
All proceeds from this fundraiser will be used directly to benefit those in need, without contributing to administrative expenses. Your giving truly makes a big difference in Haiti!
* EIN 38-3686967. Our IRS determination letter is available here for your documentation. We will also provide documentation for your donation on our letterhead upon request.